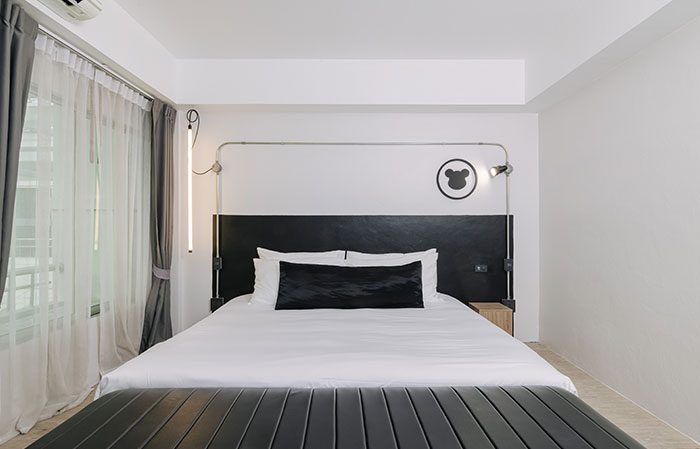 Deluxe king / twin room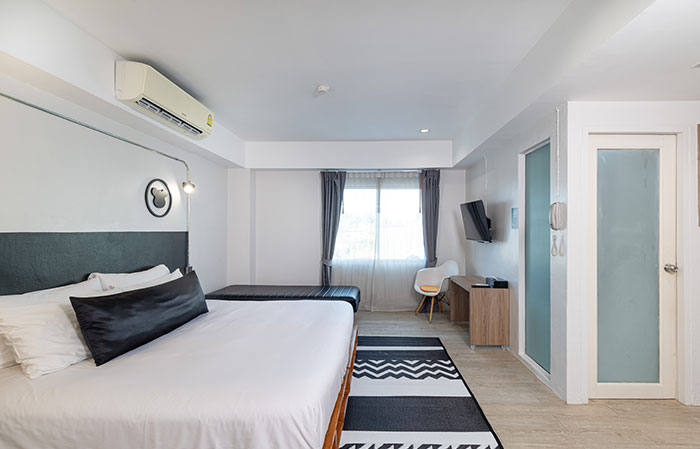 Triple room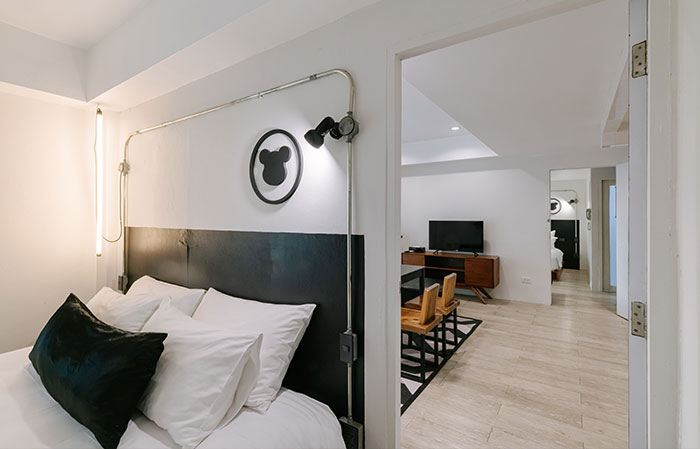 family suite
Free Breakfast for 2 persons/Room Open 06:30am. – 10:30am.

Free Mini bar in room

Free Wi-Fi
Infant 0-2 Year(s) : Stay for free if using existing bedding (No baby cot available)

Children 3-6 year(s) : Stay for free if using existing bedding

Extra beds are available on request at THB800.- per room incl. breakfast
The Hotel is pleased to serve guests with well-furnished accommodation; but any damaged or lost personal belonging is beyond our responsibility. Please take care of your valuable items.

The Hotel allocates our space to offer guests the convenient parking; but does not cover any costs associated with any damages or missing property occurring to the vehicle.

Illegal or immoral action including playing gambling, sex trafficking and etc. is strictly prohibited.

Please keep clean to public and in-room areas. Guest pets are not allowed.

Please keep silence. According to our tolerance policy, we will refuse to admit or refuse service or accommodation or may remove a person who while on the premises of the hotel acts in an obviously intoxicated or disorderly manner, destroys or threatens to destroy hotel property, or causes or threatens to cause a public disturbance.

At the Core Hotel Chiangmai, all guest rooms and public spaces are 100% non-smoking. There is designated smoking area outside of the building.

Inflammables, hazardous materials, narcotic, and other illegal objects are strictly prohibited.

Smelly object i.e. Durian is not allowed to be kept in the room or even in the resort area.

Adapter must be applied with all electric appliances which require different range of Watts to be used in Thailand.

Check-in at 14.00 hrs and Check-out before noon (12.00 hrs).

Exceeding check-out time, during 13.00 – 16.00 hrs, will result in extra charge at 50% of room rate.

Full room charge of an extra night shall be applied to the check-out done later than 18.00 hrs.

The hotel limits the number of persons to be occupied in a particular guest room at 2 persons for Deluxe Double/Twin, 3 persons for Deluxe Triple and 4 persons for Family Suit. A child under 5 years of age stays complimentary in a room with parents without any charge and the maximum number of children per room is one. The hotel will only allow registered guests to use its facilities and does not allow an unregistered guest to stay overnight at the hotel.

The hotel reserves the right to collect damage deposit, of which the amount shall be varied according to room type. If damaged property or extra cost for food and beverage is not recorded, the full amount of deposit shall be returned ONLY to the registered guest at the time of check-out. In case of damaged property found, the compensation for damage shall be deducted from the damage deposit (the amount of compensation for damage relies on the Rates of Damaged Property as listed by the resort). If the cost of damage is greater than the deposit amount, the guest shall be responsible for the exceeding amount.

For the modification of check-out date and time after arrival without prior notification, the hotel reserves the right to apply additional charge, according to the number of modified nights, to the guest.

In the event of cancellation received less than 7 days (Low season) and 30 days (Peak season) prior to the arrival, 100% retention will be charged on the reserved room rate.